Ukip leaders fleet drenches rock stars boat blaring out The In Crowd as campaign stunt on EU fishing policy turns to mayhem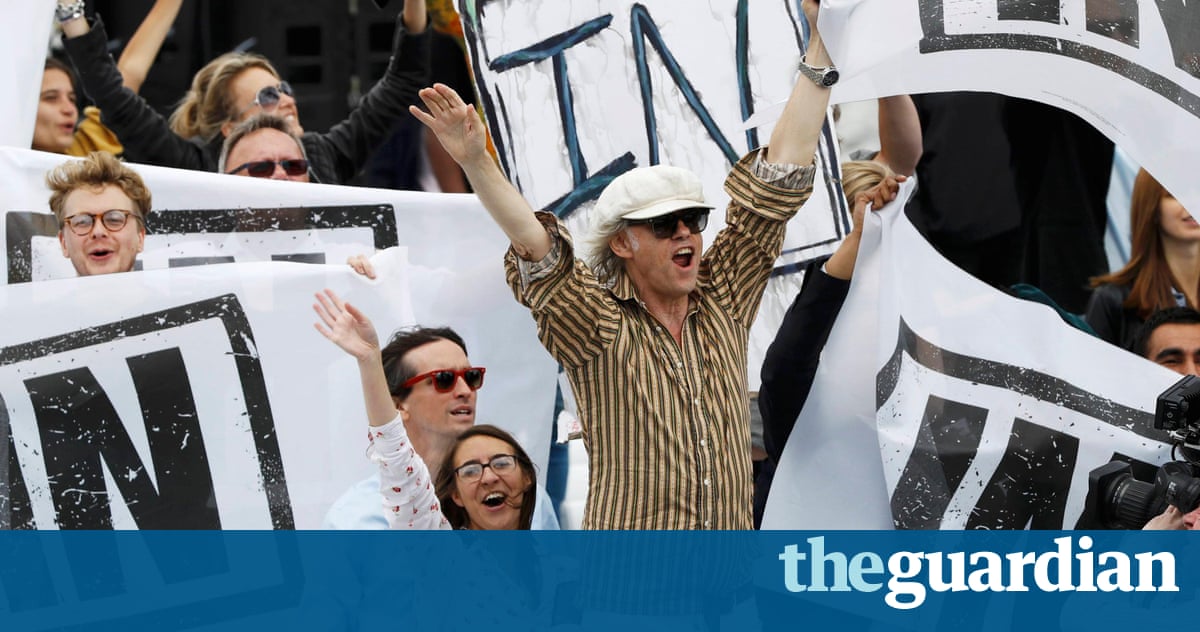 The Brexit battle took to the waves on Wednesday as Nigel Farage and Bob Geldof commandeered rival Thames cruiser boats for a campaign stunt about EU fishing policy that quickly turned to mayhem.
In what at times resembled a naval battle, rival leave and remain fleets skippered in spirit by the Ukip leader and the rock star fundraiser skirmished on the fast flowing river between Tower Bridge and the Palace of Westminster. Before it was over, Farages flotilla of angry trawlermen campaigning for leave had drenched Geldofs boat with hoses and angrily boarded it midstream to the dismay of the river authorities. Geldofs boat almost shredded the eardrums of those on Farages vessel with a high decibel blast of 60s pop music; Geldof called Farage a fraud and flicked him the V sign.
Ukip chartered Edwardian, a luxurious river cruiser, to support a dozen fishing boats from Brixham, Berwick, Ramsgate and Faversham, all calling for Brexit under the banner Fishing for Leave.
The stunt became a battle when Geldof on a large white pleasure boat, Sarpedon, chartered for a counter-demonstration, pulled alongside Farages vessel as the Ukip leader was telling TV cameras how the fishing industry was literally being destroyed as a result of EU membership.
Farage was stopped mid-flow as Geldofs ship blasted out at earsplitting volume Dobie Grays 1964 hit The In Crowd. On board with Geldof was Rachel Johnson, sister of the Brexit campaign leader, Boris Johnson. Geldof then harangued Farage, shouting through the PA system: Nigel, you are a fraud.
Leave campaigners tried to shout back shame on you, but were drowned out by the sonic assault. Farage stood at the prow of his boat with his back turned, alongside Kate Hoey, the Labour leave campaigner.
Leave campaign fishing vessels and rival remain inflatables weaved in and out of the mother ships in sometimes reckless manoeuvres, but it was a culture war as much as a naval one. Ukip MEP David Coburn declared Geldofs passengers looked like the nightclub crowd at Annabels, although they in fact included several Corbynista Momentum activists. Farages crew were mostly suited Ukip backers including the insurance millionaire Arron Banks and party aides snacking on prawn sandwiches and sipping white wine while the music to The Great Escape played in the background.